Rooms
Parkhotel Schloss Meisdorf

Rooms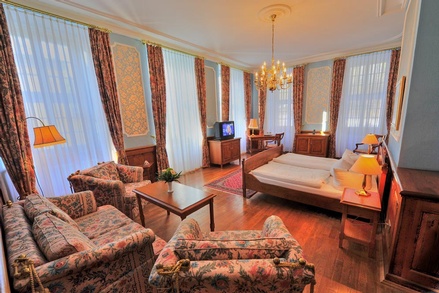 Dear Guest,

Welcome to the Van der Valk Parkhotel Schloss Meisdorf!

The Park Hotel Schloss Meisdorf is a real castle built in 1709, located in the Harz, at the foot of the Falkenstein Castle, in the romantic Selktal and is located on the "Strasse der Romantik" (street of romance). When you pass through the old wrought iron gate and enter the 12-hectare castle park, you will enter a world of royal hospitality.
Our park consists of several buildings, the 'Neue Schloss' and the 'Gräfliche Rentam' are the little jewels of Meisdorf. You will find a cozy atmosphere in the rooms of 'Chalet Ludwig'.
Castle Meisdorf has 72 comfortable rooms, as well as authentic castle suites which are equipped with all modern comforts, including a luxurious bathroom, telephone, TV, minibar, safe and Internet (extra charge).

Here is a list of our rooms:

• Historic double room
• double room "Chalet Ludwig"
• double room "Neues Schloss"
• double room "Gräfliches Rentamt"